Omnitrans names director of operations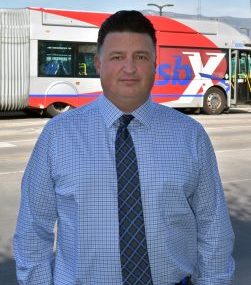 Omnitrans
Shawn Brophy has been named Omnitrans' director of operations.
Brophy, who has spent more than 25 years in the transit industry, will oversee approximately 480 employees, including more than 400 coach operators, according to a statement.
He replaces Diane Caldera, who retired in September.
"Shawn's strong background, experience and work ethic will bring the leadership skills needed to address the changing demands of our transit system," said P. Scott Graham, Omnitrans chief executive officer and general manager, in the statement.
Brophy has worked in the private and public sector. Most recently he was quality assurance director at the North County Transit District in San Diego County.
Omnitrans is the largest public transit operator in San Bernardino County. It maintains 30 bus routes and transports more than 36,000 passengers on an average weekday, according to the statement.