Riverside hits back against citrus greening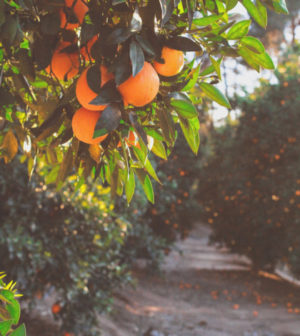 The disease, for which there is no cure, was first identified in the city last summer. It has already destroyed much of Florida's citrus industry, and it has the potential to cause serious damage in California.
Riverside is one of the few Southern California cities that still has a viable citrus industry.
Right now, that industry is under assault.
On April 25, workers from the city's parks, recreation and community services department and researchers from the UC Riverside placed a protective cloth on the historic Parent Navel Orange Tree, which sits inside a fenced enclosure at Arlington and Magnolia avenues.
That was done to protect the tree from citrus greening, a fatal condition that has been detected in four citrus trees in Riverside, starting with a grapefruit tree near Chicago and Marlborough avenues last summer.
That tree, which was in a residential yard, was removed by state and federal officials in July.
Citrus greening has destroyed much of Florida's citrus crop since it sprang up there in 2005, and it's now a threat to Riverside's citrus industry, said Andrew Emery, Riverside's parks superintendent.
One of Riverside's highest priorities is protecting the Parent Naval Orange Tree, one of two such trees it planted in 1873 after receiving both as gifts from the U.S. government. The other, planted where the Mission Inn stands today, did not survive.
"The Parent Naval Orange Tree is historic, it's very old for an orange tree and it's important that we preserve it," Emery said. "That site is considered the birthplace of the citrus industry in Riverside, if not all of California."
In a statement released the day the protective covering was put in place, Mayor Rusty Bailey affirmed the tree's historical importance and its role in Riverside's growth, and stated his support for the city's efforts to keep it alive.
"The Parent Navel is an iconic symbol of Riverside, as it represents the impact the citrus industry had on our economy," Bailey said. "Riversiders hold this symbol of our citrus heritage very dear, so it's encouraging to see our parks personnel taking a proactive approach."
So the tree must be saved, but the battle to do so won't be easy.
There is no cure for citrus greening, a bacterial disease carried by the Asian citrus psyllid, an insect that spreads the disease as it moves from tree to tree.
Citrus greening attacks a tree's vascular system, causing its leaves to become misshapen. The tree withers and dies within a few years, and in the meantime produces fruit that carries a bitter taste.
The disease's technical name is huanglongbing and it's often called HLB. Citrus greening is not a threat to humans or animals.
"Unfortunately, when any tree shows symptoms it's a death sentence," said Steve Lyle, spokesman for the California Department of Food and Agriculture. "Even covering it doesn't help much because the insect can slip underneath the cover. About the only thing you can do to protect the trees around it is to remove the [infected] tree."
In Florida, the psyllid was first identified in 1998, the citrus greening disease itself seven years later. Since then, citrus greening has caused an average loss of about 7,500 jobs per year, while costing citrus growers an estimated $3 billion in lost revenue.
Citrus greening has the potential to wreak major damage on California's citrus industry, a $2 billion-per-year enterprise that is conducted mostly in the Central Valley and parts of Ventura and San Diego counties. Besides oranges, California citrus farmers produce tons of grapefruit, tangerines, lemons and limes every year.
There is certainly potential for major damage in Riverside County, which produces more grapefruit than any county in the state and is second in lemon production to Ventura County.
"Citrus is not only a major part our history, it's a major part of our economy," Lyle said. "We absolutely have to preserve it."
San Bernardino County has some citrus production but does not rank in the top five statewide in any category, Lyle said.
Citrus greening was first detected in California in 2008 and in Los Angeles County four years later in the unincorporated community of Hacienda Heights.
In Riverside, city officials have been joined by the Food and Agricultural Department, the U.S. Department of Agriculture and the Riverside County Agricultural Commissioner's Office, each of which is trying to educate the public about the threat of citrus greening.
Since the disease was discovered in Riverside, all four of those entities have encouraged Riverside citrus growers to be extra vigilant and inspect their trees for any symptoms of the disease. But Riverside officials are focusing most of their efforts on preserving the Parent Naval Orange Tree and the few other trees in the city that have been identified with citrus greening.
For now, individual citrus growers must deal with the problem themselves, Emery said.
"We're trying to get the word out as best we can," Emery said. "The problem is, there's no cure. No one knows how long this will go on."