Riverside is getting ready for "The Cheech"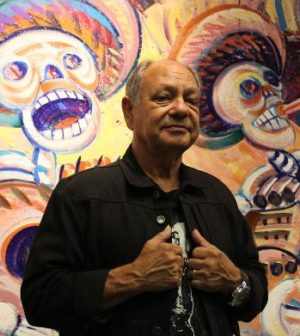 Cheech Marin's extensive collection of Chicano art will be housed permanently in the city's downtown. City officials hope the project, which is still being planned, will become a destination location.
Riverside officials are hoping a museum with a famous name attached to it will help revive their city's downtown.
The Cheech Marin Center for Chicano Art, Culture and Industry will be located in what is now Riverside's Main Library, a three-story structure at Mission Inn Avenue and Orange Street next to the Mission Inn, according to city officials.
That will put "The Cheech" in the heart of the city's arts and entertainment section, City Manager John Russo said.
The library will be moved several blocks away, to a 2.7 acre site at Mission Inn Avenue and Fairmount Boulevard that was once occupied by a bus terminal. That will open the door for the museum, which will house the actor-comedian's collection of Chicano-themed art.
That assemblage is approximately 700 pieces and is reportedly one of the largest art collections of its kind in the United States.
"This is going to give Riverside a chance to become a cultural arts center in the Inland Empire, which is something it has always aspired to be," City Manager John Russo said.
The project began to take shape last year, when Marin staged a show at the Riverside Art Museum that included some pencil drawings from his collection. Russo and his wife Melissa had lunch with Marin the day of the show's opening.
"It was  a really interesting conversation that was all over the map," said Russo, whose wife is director of the San Bernardino County Museum. "Cheech is a smart guy, like all comics, and he's very well-read. I had heard he was looking for a place to house his art collection, so I talked to some people at the Art Museum."
About three weeks later, Russo met with Marin over dinner and made a pitch on behalf of the city, one based on Marin's art collection taking the space that would eventually be vacated by the Main Library.
"I told him I knew we could make this work, and within two days he agreed to pursue it," Russo said
A memorandum of understanding between the city, the Art Museum and Marin was reached in May, the same month all three parties began negotiating. Riverside officials agreed to hire consultants and pledged to work with Marin and the Art  Museum to develop a plan for the structure, a former YMCA building bought by the city in 1967.
The city has also hired Page & Turnbull, an architectural firm that specializes in restoring historic buildings. Page & Turnbull, which has offices in Los Angeles, San Francisco and Sacramento, will be paid $100,000, according to a statement on the city's website.
The memorandum was scheduled to expire  Feb. 26, but it was extended three months, in part to allow more time for fundraising.
All three parties, with the help of several local state legislators, have secured a $1 million state grant to move The Marin Center forward. Also, the Riverside Latino Network, the Greater Riverside Hispanic Chamber of Commerce and the Spanish Town Heritage Foundation have each pledged $30,000.
All three organization have said they expect to raise $250,000 on behalf of the project.
The Art Museum has also set up a fundraising group, the Cheech Capital Campaign Committee.
No timetable for the facility's opening has been announced.
The Main Library needs a new roof, elevator and air conditioning system. Those repairs are expected to cost $2 million to $3 million, according to Russo.
"We're meeting all of our early fundraising goals," Russo said. "We're close to our initial goal of $3 million, and I would expect to see an endowment program set up at some point. But I think it's going to cost about $10 million to get this thing up and running."
Plans call for the collection – which is too large to display in one place at one time – to be on the second floor, with the first floor to be used for research into Chicano art and culture. How the third floor will be used hasn't been determined.
The Art Museum has some Chicano-related artifacts – paintings, sculptures, photography and video arts – that it plans to add to Marin's collection, said Drew Oberjuerge, the art museum's executive director.
"Over time, we think it's going to attract a lot of people downtown," Oberjuerge said. "It's going to be very vibrant, and it's going to fit perfectly with the Mission Inn and the rest of downtown. We're looking forward to having it."
Art Museum officials also plan to take parts of Marin's collection on tour for temporary display at other U.S. art museums. That, in turn, should make it easier for the Art Museum to attract collections from those entities.
A portion of Marin's collection made up part of  "Chicano Visions: American Painters of the Verge," an exhibition that drew large crowds when it toured major U.S. art museums between 2001 and 2007, according to the statement.
"It was an easy decision to get involved in this," said Russo, who said he believes an agreement can be reached that will keep "The Cheech" in downtown Riverside for at least 20 years. "It's a fantastic opportunity."