Riverside raises tree trimming budget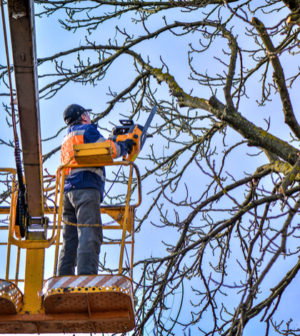 Riverside plans to be more diligent about maintaining its trees.
The city council on Tuesday voted to take $3 million in Measure Z funds and use it to pay for tree trimming, according to a statement on the city's website.
The work, which will involve trimming 21,0000 to 23,000 trees a year on approximately 150,000 streets, will be done by West Coast Arborists Inc. in Anaheim.
Riverside is budgeted to spend $6.6 million on tree maintenance during the next three years.
The extra money from Measure Z , a one-cent sales tax approved by voters in November 2016, will allow trees to be scaled back every six or seven years. Currently, some trees are trimmed every eight or nine years.
Riverside has an estimated 150,000 trees on its streets, 35,000 in its parks and and another 15,000 in medians and other areas it maintains. Total value of those trees is estimated to be more than $300 million.
West Coast Arborists will also provide emergency and scheduled tree removal, palm tree skinning, root pruning and maintenance of young trees. Its maintenance cost breaks down to $184 a tree during the first year of the contract, and $191 during the second and third year of the agreement, according to the statement.