By Edward L. Fixen
The sale of small businesses (generally those with annual revenue less than $1 million), is strong and thriving.  Since the recession recovery period of 2010-2012, the sale of small businesses has increased approximately 55%.  BizBuySell.com, a leading internet business-for-sale web site, reported that the sale of small businesses is up 15% through the 3rd quarter of 2016 and are at the highest levels since the 2nd quarter of 2008.
It is believed that this strong activity can be largely attributed to the large number of baby boomer business owners that postponed the sale of their business during the recession.  Additionally, BizBuySell's Seller-Buyer Confidence Index also indicated that Buyers are less concerned about an economic downturn and only 29% believe they can getter a better deal if they wait a year to purchase.  This combination has resulted in increased listing and sales activity for small businesses.  The average days on the market for a small business has steadily been decreasing from 188 days in the 1st quarter to 171 days in the 3rd quarter.  This may not sound like much but is a significant decrease in that amount of time and a very positive indication of small business sales activity.
The strong small business sales market is also reflected in the smaller differential between asking price and sale price.  The average ratio of sale-price to asking-price has grown to 93%, compared to the historically average in the 80% to 90% range. This is believed to be a combination of more realistic seller pricing and improved financing conditions.  From a political perspective, BizBuySell found that among both buyers and sellers, Trump is seen at the candidate most likely to improve the small business environment (57% and 54%, respectively).
The most popular small businesses changing hands are reported to be restaurants and food-serving businesses, followed by convenience stores, liquor stores and supermarkets. The Los Angeles-Long Beach-Santa Ana Metro led the pack with the highest number of transactions.  Among all US Metro areas, the Inland Empire Metro area had approximately the 20th most sold businesses in the US in 2015.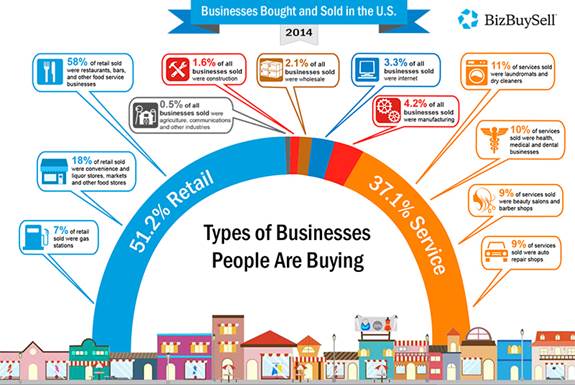 Source: BizBuySell
Author: Mr. Fixen is the President of BusinessQuest, a business valuation and M&A brokerage firm serving small & mid-size, privately-held businesses throughout Southern California.  Mr. Fixen is a Certified Business Appraiser (CBA) and Certified Business Broker (CBB).  Ed can be reached at [email protected].