Jaiswal named Omnitrans' employee of the quarter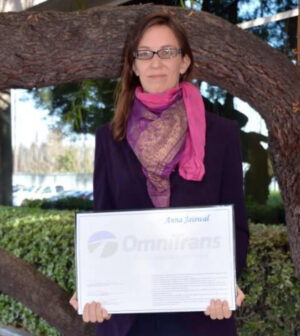 Omnitrans
Anna Jaiswal has been named Omnitrans' employee of the quarter.
The San Bernardino County transit agency's development planning manager, Jaiswal was recognized for her work positioning Omnitrans for grants, according to a statement on the agency's website.
Jaiswal "has consistently led several grant application projects that receive the highest possible ratings by the Federal Transportation Administration," the statement reads.
Right now, Jaiswal is waiting on a decision on a $1 million Clean Mobility Options grant for an electric vehicle microtransit project in the Bloomington area. 
"It is a rare opportunity for a grant to pay for operation of transit service," Jaiswal said in the statement. "Because of this, the grant required in-depth public engagement prior to applying, which scared off several potential applicants."
The employee of the quarter award is determined by Omnitrans' board of directors.