By Tim Kolacz
MANDATE, motivate, educate
So, just like the movie Hot Shots, part two of the Covid Workplace adventure is just as interesting as the first. What you as a business owner are faced with, when you don't want to mandate the vaccine, is how to motivate your workforce into getting the vaccine on their own. Albeit with maybe little encouragement, nay push, to get the shot.
Some of the ways to motivate the employees to get the vaccine is to use a few old tried and true tactics, Peer Pressure, Perks, and Guilt. Yes, I know I sound like your parents trying to get you to go to church when you were 13 and the Super Bowl is on, but these things still work. However, you have to do it in a way that it sounds like it's their idea to do it.
Getting the employees to talk amongst themselves starts with getting them talking about the vaccine in general. You can survey the employees as to their desires to get the shots just by sending out an anonymous survey. Answers only, no names, that only the HR director and the owners will see, allows the employees to begin the conversation on their own. Just like when there is any type of company wide notice, the talking starts right away, and in this case, it might actually be helpful for the employee population to talk like this. Having them talk will allow for them to have their own opinions about the vaccine and this is where the second part of the process begins.
Providing company wide perks, like a Detroit-style pizza lunch with all the extras can be a motivator; where you say, if 60% or more of the company gets the shot, the party is on. This must be done on a company wide basis. You don't want to play favorites and say that only those who get the shot get the pizza, that is borderline discrimination and we don't want that. But if you give it to everyone, with a specific participation level or more, then you are good to go. This will also lead to the employees talking and saying things like the vaccine is good for self-preservation as "if you get the shot and I don't, I am more likely to get it from someone that is asymptomatic and I don't want that" thoughts come up. You as the company can also give a strong recommendation about getting the vaccine, all while not mandating it.
Leadership must be on board from the start on this and they need to practice what they are communicating. If leadership is not on board, then it's all down the tubes.
This is where the good old-fashioned guilt train comes chugging down the tracks. While not the best route to communicate, guilt will be inherent among the employees; and people who are in that borderline area, will move quickly into a yea or nay. Recent surveys put this middle ground at about 49%. This can easily get you to the 60-80% numbers you might be striving for as a company. Now, I don't like to be guilted into anything, but even now there are still things I will buckle on. The key will be to have it feel more like they doing it for the good of the company and for fellow employees. This will then enhance the morale of the people because then the other employees will know that they will feel safer and the converted employee will also feel like they have taken one for the team.
And that's a good thing.
Tim Kolacz provides his clients with his most valuable asset, his time and attention. He's willing to share some of it with you M-F, 951.779.8370. On Saturdays his time goes to his really cool Triathlon bike.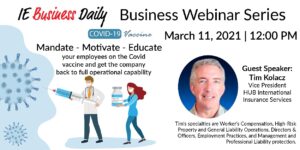 Tim will be the guest speaker in our March 11 Business Webinar: Covid-19 Vaccine Mandate-Motivate-Educate. Click here to register.