By Tim Kolacz
MANDATE, motivate, educate
You've worked hard to create your company and 2020 beat you up. But you're an entrepreneur, you're used to getting beat up daily, dirt flying, grease on your face. Just to wake up tomorrow to do it again after a hot shower and solid breakfast. Now you need to follow a bunch of new regulations to keep the company running right, keeping employees safe, and keeping them happier than they were previously. It isn't easy.
Now the vaccine is coming, and you have questions about what you as a company can do regarding this. Will you mandate the employees gets vaccinated; will you encourage them to get it; or will you educate them? In this article, the first of three parts, culminating in a webinar that will provide the most up-to-date information, we will start with the hot button of them all, Mandate.
Imagine for a minute that you are going to mandate that all employees must be vaccinated before coming back to the workplace. This is something that has been talked about since Covid-19 took hold of the world psyche and has also been debated starting 10 seconds after that. These debates are something you need to worry about as they will come into your business and will be a discussion whether you want them to or not. However, here's what we know.
Yes, you can create a company that will mandate the vaccine. Great. Now what? You will have people that will claim that they can not take the vaccine due to a religious belief. Some will be telling the truth and that their religion does not allow such items. Some will be less truthful and will just not want to be told what to do. In both cases, they must divulge what religion they are and what the parameters are that are not allowing them to take the vaccine.
Some of these employees will not be happy about needing to divulge this information. however, it will be necessary for them to tell you these things. This also includes people saying no for a medical reason. If you have implemented a mandated program, part of the program for those that won't take the vaccine is to discuss medical information that would not normally be shared. The employee may not want to do this. Bummer for them.
As a part of the ADA and Rehabilitation Act these certain questions can be asked and typical ADA guidelines must be followed. These questions are asked so that there is no medical issues with the employee receiving the vaccine. As per Section K of the ADA:
This means that such questions, if asked by the employer or a contractor on the employer's behalf, are "disability-related" under the ADA.  Thus, if the employer requires an employee to receive the vaccination, administered by the employer, the employer must show that these disability-related screening inquiries are "job-related and consistent with business necessity."  To meet this standard, an employer would need to have a reasonable belief, based on objective evidence, that an employee who does not answer the questions and, therefore, does not receive a vaccination, will pose a direct threat to the health or safety of her or himself or others.  See Question K.5. below for a discussion of direct threat.
Tim Kolacz provides his clients with his most valuable asset, his time and attention. He's willing to share some of it with you M-F, 951.779.8370. On Saturdays his time goes to his really cool Triathlon bike.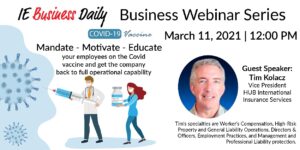 Tim will be the guest speaker in our March 11 Business Webinar: Covid-19 Vaccine Mandate-Motivate-Educate. Click here to register.