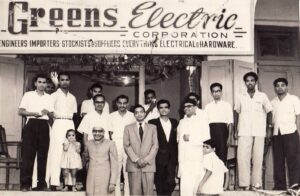 A company that started in electrical parts decades ago in India, has become a significant player in commercial real estate ventures in the Inland Empire.  The company, Greens Group was founded by current CEO Atman Kadakia's grandfather, Jayantilal, in 1962 as an electrical parts distribution company. Atman's father, Sharad, moved that business to the United States in 1988 and shifted to hotel acquisition and management, then ground-up hotel development.
Today, Greens Group employs 400 people and has 75 subsidiaries in the United States and also has developed nearly 1M square feet of class-A office space from the ground-up in India.
Greens Development has built 5 hotels in the Inland Empire and currently has 15 more in process, most of them franchised by Hilton or Marriott.
"We're a vertically integrated company," said Kadakia, referring to the business model of multiple units that operate individually and develop expertise in their areas of responsibility. "We develop, but we also entitle [properties], we design, finance, build and manage what we build. We do everything from the ground up, and we rarely sell any of our properties."
After earning degrees from USC and Georgetown University, Kadakia went to work as a real estate broker for Sperry Van Ness. He entered the hotel business in 2010 when he spent one year running a small family-owned hotel in San Diego.
He recalls working so much that he never visited the beach and realizing after one year that he would rather build and run hotels rather than just acquire and run them.
"It was part of my family's culture, and it was more in line with my education," Kadakia said.
A chess player in his youth, Kadakia found parallels between the game and the business world, particularly real estate development.
"I love the mental challenges of both of them," he said. "It's never easy, and you have to think three, four, and five steps ahead while remembering multiple combinations of options. That's a lot like the real estate business.
Over time, Kadakia developed a simple business strategy that he said applies to every facet of Greens Group: both parties must benefit in any transaction.
"You try to create a 'win-win,' where both sides come out ahead," Kadakia said.  "That's our company tagline: win-win. It's a challenge making that happen, but it's what makes business fun."
Among the company's numerous projects in the Inland Empire, Greens Development has built the Hampton Inn in Riverside Downtown, the Hampton Inn, and Home2 Suites at the March Air Reserve Base.
The company has seven now underway in the Inland region, including Home2 Suites and Hampton Inn in Big Bear Lake, Fairfield Inn in Victorville, and Home2Suites projects in San Bernardino and downtown Riverside.
"We love the Inland Empire market," said Kadakia. "It's a growing area, it's more affordable than most places in California and it has some great universities, like UC Riverside and Cal State San Bernardino, supporting it. It's also pro-business. There's a lot of demand in the Inland Empire for what we do."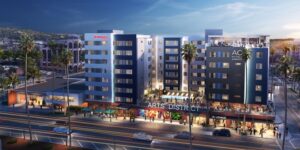 One of its more ambitious hotel projects is a proposed 226-room hotel that will be built near the Mission Inn in downtown Riverside.
When finished, the eight-story project will have two names: AC Hotel by Marriott and Residence Inn by Marriott. The planning commission approved the project in the spring of 2021 and the city council approved the project in November of 2021, but the project – which took three years to put together – has been blocked by a lawsuit related to California Environmental Quality Act.
"That's the most extraordinary project I've been a part of," Kadakia said. "The city asked for proposals, and we brought in two of the best hotel brands we could. But right when we were starting construction drawings we got sued by Duane Roberts and The Mission Inn. He didn't want the competition."
Kadakia went on to say they are fighting the suit and intend to see the project completed.
On the retail side, Greens Development has worked with In-N-Out Burger, Starbucks, Pilot Travel Centers, Sleep Number, Carl's Jr, Quick Quack Car Wash, and Chipotle Mexican Grill. It has also developed its apartment brand, Residences by Greens.
"Retail is a portion of what we do, as is office and self-storage, but our main business is hotels and apartments," Kadakia said. We believe that both businesses are critical to the communities we serve."
The Canal Square project, which will cater to people doing business with Loma Linda University Medical Center, is potentially a major development for Grand Terrace, City Manager Konrad Bolowich said.
"There's a real need for a hotel in this community," Bolowich said of Grand Terrace, which was incorporated in 1978 and had a population of 13,000. "There's more than enough business to support one. It's something we've needed for a long time."
Greens Group is developing the Canal Square Project on Barton Road, a mixed-use project that will be built on five acres of open space at Barton Road and Canal Street which was approved by the Grand Terrace City Council in 2019.
The project will include restaurants, retail, hotel, and multi-family, but its most significant feature will be a 90-room business-class hotel, said Atman Kadakia, principal, and chief executive officer of Greens Development.