By John Tulac
No Longer Friend; Not Yet Foe
What do you call someone who is not a friend, but not yet an enemy?  In sports, we might call that someone a competitor.  In diplomacy, we might call that someone a rival.
Since the time of the Industrial Revolution, the United States had a special relationship with China.  Although it became a budding colonial power following the Spanish American War of 1898, the United States pushed back against the European colonial powers when it came to China. Chairman Mao Zedong repudiated the special relationship following the Communist takeover of China in 1949, but President Richard Nixon and Henry Kissinger restored the special relationship through back-channel negotiations with Zhou Enlai .
The United States directly made China's phenomenal growth possible through direct investment once China opened up following the Foreign Investment Law of 1979 and by buying massive quantities of everything that China produced for export.  The United States supported the admission of China to the World Trade Organization in 2001 certain that China would progressively become more capitalistic and democratic as it grew. In that assumption the United States was mistaken.
Instead, China continued to depend on mercantilist, instead of liberal trade policies and practices, failed to firmly establish and enforce a rule of law, instead of continuing to rule by arbitrary laws, encouraged and, in some cases, directly supported the theft of intellectual property, and engaged internally in a ruthless form of crony capitalism that rewarded members of the Chinese Communist party and the military.
Premier Xi Jinping has exacerbated global tensions and subjected not only China's internal economy, but also the global economy to the vicissitudes of his iron grip command-and control form of ruling that has trickled down to micromanaging. China is bullying all of its neighbors, except for Russia, and allying with the enemies of the United States, specifically Iran, North Korea, and Russia.
As a rising power, China will assert itself and contend for influence and advantage.  In doing so, it has directly contravened the United States on multiple occasions and on many matters of strategic global and regional importance. The Thucydides Trap posits that a rising power (China) and the established power (the United States) will inevitably go to war.  The rising power may seek to strike when opportunity presents itself, say in the form of a devastating cyber attack while the established power may seek to strike preemptively to slow or even stop the rising power.
There is no law of the universe that says that the Thucydides trap is inevitable unavoidable.  But if tensions continue to rise, a minor incident can escalate into something far more dangerous.  A single miscalculation can bring about the very conflict the countries should assiduously seek to avoid.  Where would your business be if that happened? How diversified and resilient is your supply chain?  Every business should be prepared for possible disruption and do more than pray that it doesn't happen.
A rivalry can be good for both countries, so long as there is constructive and continuous engagement to prevent misunderstandings, limit or better yet prevent potentially destructive activities, and constantly seek mutual advantage, which China and the United State still have in great abundance.
John W. Tulac is an international business attorney practicing in Claremont, adjunct professor of law at University of La Verne College of Law (retired), and Lecturer Emeritus (retired) at Cal Poly Pomona.  He is peer recognized as preeminent in international business law and holds the highest ratings for competence and ethics from the Martindale Hubbell National Law Directory. http://www.johntulac.com/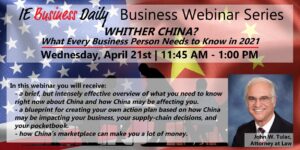 John will be the guest speaker in our April 21 Business Webinar: Whither China? What Every Business Person Needs to Know in 2021 Click here to register.